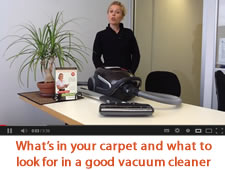 08 Jun

Vacuum Cleaners for Asthma & Allergy Sufferers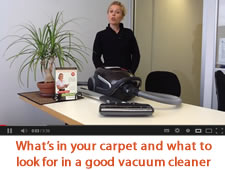 Recently my vacuum cleaner broke down… it happens every year – I've invested in rolls of duct tape and replaced almost every part twice over because I can not justify buying another one when it is only five years old. I hate how disposable our stuff has become! So I fall into the same trap of buying another part rather than forking out more money for an entirely new one. So it's time to see what's on the market.
Rather than clean the home, many vacuum cleaners will exacerbate exposure to allergens like mould, house dust mite and dander by causing them to become airborne. Investing in a good asthma friendly vacuum cleaner is important to establishing a healthy home and critical if anybody in the household suffers from asthma or allergies.
The average square metre of carpet will accumulate around 1kg of dust every year.
Carpets contain a plethora of allergens and hazards from dirt, food and biologicals like bacteria, pollen and mould spores, to house dust mite; pet and human dander; particulates like insect parts, furnishings, and insulation fibres; heavy metals like lead (especially if your home was built prior to the 1970s), and chemicals like flame retardants, pesticides, solvents, fragrances… The list is endless. There are some that say carpets act as a sink to these hazards, and this is partly true, however the great majority would agree that if you have allergies, carpets should be avoided because they are impossible to clean.
Fifty vacuum cleaners were surveyed by a reputable organisation for their ease of use and for their capacity to remove dirt and pet hair. I have rated the top 12 of these models for their capacity to reduce allergens which I based on the presence of a HEPA filter, power (motorised) head and bag. These features are important if you have carpets or rugs. The power/turbo head are not required if you only have timber or tiled floors.
Brand & Model

HEPA Filter

Power vs Turbo Head

Bag vs Bin

Cost*

Notes

Nicole's Health Rating*

(1 to 3)

Bosch Free Animal BSGL 5244
Yes
Turbo
Bag
Mid
Made in Germany.

2

Dyson DC23 Stowaway Motorhead
Yes
Power
Bin
High
A British company, however they are made in Malaysia. Cyclonic action means it doesn't lose suction.

3

Electrolux Ultra Active Cyclonic ZUA3861P
Yes
Power
Bin
High
Long history (1897), made in various countries, primarily Europe.

3

Electrolux Ultra One Z8870P
Yes
Power
Bag
High

3

Miele S2111
No they have SF-SAC 30 filters

**

Turbo
Bag
Low
Long history (1899) and made in Germany. The SF-SAC 30 filters prevent 97.95% of particles as small as 0.5 micron and 94% of particles as small as 0.3 microns. In addition the SF-AAC 50 contains carbon to remove (pet) odours.

2 (3)*

Miele S5211
Turbo
Bag
Low

2 (3)*

Miele S5311
Turbo
Bag
Mid

2 (3)*

Miele S6320 Cat and Dog

No, it has a SF-AAC 50 filter

**

Turbo
Bag
High

3

Sauber Intelligence SI-200
Yes plus a carbon filter to address odours
Power
Bag
High
Easy to replace parts as there are Godfreys stores throughout Australia and New Zealand.

3

Sebo Felix Premium
Yes
Power
Bag
High
Established in 1978, they are made in Germany.

3

Sebo Airbelt K3 Premium
Yes
Power
Bag
High
Vax Zen Pet Cylinder: VCAP1600
Yes
Turbo
Bin
Mid
Forget it.

1
Nicole's Rating: 1 = not recommended, 2: worth considering, 3 = recommended

*

Cost: Low < $300, Mid $300 to $550, High >$550
Most Miele models can be upgraded to include a HEPA filter.
My Summary
If you've got a budget, go for a Miele and upgrade it to include the Active HEPA filter (in which case I'd rate it a 3). If you have an unlimited budget, consider the Sauber Intelligence SI-200, Dyson DC23 Stowaway, the Electrolux Ultra series or the Miele S6320 Cat and Dog (upgrade the Miele to include the Active HEPA filter). I do not have the expertise to rate the vacuum cleaner for their durability, however you can gain an insight if you research product reviews which I strongly suggest you do before you make your purchase.
TIP 1: to reduce the odours emanating from the vacuum cleaner, sprinkle one tablespoon of bicarbonate of soda on the floor and vacuum it up
TIP 2: it is far more effective to spend 1 to 2 minutes vacuuming one square metre of carpet every 6 weeks, than it is to skim over the surface every week
TIP 3: to reduce the dust load by at least 50%, take your shoes off in the home
TIP 4: pets should not be allowed in carpeted areas or bedrooms
Note
Bag vs bin: bins are more likely to release dirt and allergens back into the air during disposal. In addition, replacing the bags enhances the filtering capacity as most vacuum cleaners (apart from the Dyson) lose efficiency as their bags/containers get full. Bosch, believes that the most effective way to remove dust, pollen and other allergens is to use a bag and I too agree.
Power vs turbo head: a turbo head has a rotating brush driven by airflow, whilst a power head has an inbuilt motor making it more efficient at picking up dirt in carpets. Of course if you do not have carpet or rugs, a conventinoal cleaning head will suffice.