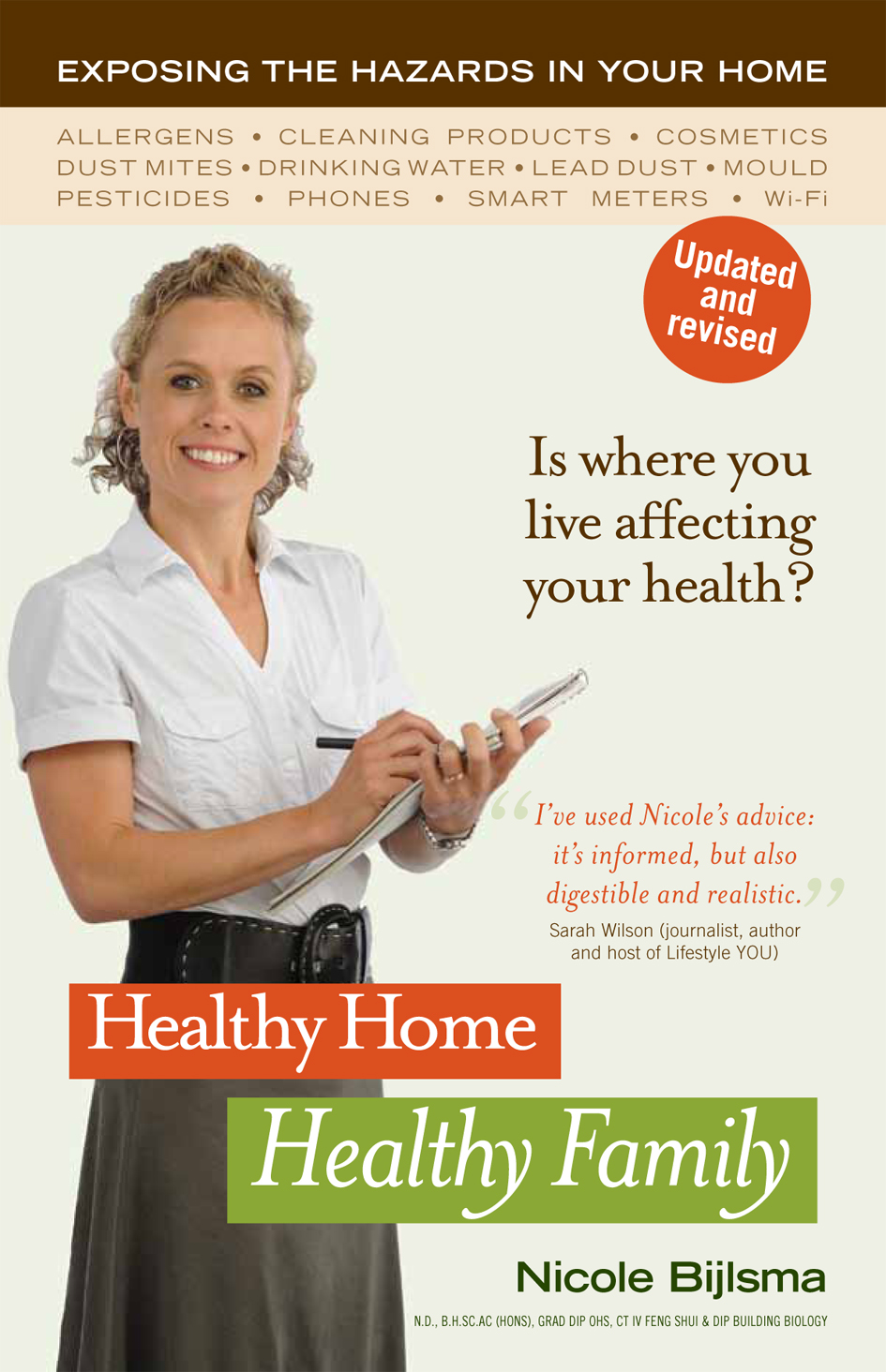 07 Jul

Healthy Home Healthy Family
Due: November 2017
Nicole Bijlsma is a passionate crusader for uncovering the many hidden environmental factors that are challenging our health. Her book is a comprehensive guide for ensuring that every home is a safe and healing haven for every family. In my opinion, it is a MUST read and a valuable resource for anyone committed to creating a healthy future. Sherrill Sellman (Bestselling author of Hormone Heresy)
What can be more important than the health of your family?
The bestselling book Healthy Home Healthy Family is now in its 3rd edition. It is a compilation of fifteen years of research. Within its pages you will discover how your home can affect your family's health and, most importantly, what you can do about it.
In the past thirty years life threatening allergic reactions have increased fourfold, autism now affects 1 in 3 (aged between 5 and 15), Attention Deficit Hyperactivity Disorder affects 7% of children, 25% of the population are diagnosed with allergies, breast cancer has almost tripled, the age of puberty is declining, sperm count has dropped by 50% and IVF is where you go to have children. Could these conditions be linked to allergens like mould, chemicals and electromagnetic fields in our homes? Absolutely!
For a signed copy by the Author and free postage, pre-order your copy.
Due November: Health Home, Healthy Family Book
Testimonials
"Nicole's book is a must read for parents wanting to provide a safe and optimal home environment for their family. Well researched, easy to digest and full of wonderful, practical tips. Gorgi Coghlan (Presenter of The Circle)"
"Melbourne-based Building Biologist Nicole Bijlsma uncovers the sources of toxicity in our homes – mould, dust, electromagnetic fields, plastics, chemicals, water and more – and, substantiated by credible sources such as the WHO, links them to the rapid increase in illness in her new book, Healthy Home Healthy Family, due to be released by Joshua Books in July 2012. Her first edition sold out in 18 months, attracted nine television interviews and numerous radio interviews. Find out why!"
"Not just content to identify 21st Century disease – and comprehensively detail how our living spaces impact our health – Ms Bijlsma gives hot tips to minimise the impact the domestic environment has on our health. There is a special section for pregnant women and those with breast cancer. She also provides the reader with comprehensive and practical checklists to assess the health of their home."
"Many of our homes are making their occupants sick," says Nicole Bijlsma."In the past 20 years, we have seen cases of ADD quadruple, sperm count halve, breast cancer double, infertility rapidly rise and one in four children are now asthmatic." The phenomenon of 'sick building syndrome' was officially diagnosed by the WHO in 1986, but absent from this inclusion was 'sick homes'. Over 10 years of research was done to write this book so that people can be empowered to take appropriate action in their living space and maintain their family's health," she adds.
"Ms Bijlsma's extensive research focuses on everyday domestics – electromagnetic fields and radiation; drinking water; allergens; mould; dust; pets; plants and pollens; chemicals in personal care and cleaning products; pesticides; our clothes, bedding and toys; cookware and building materials. Healthy Home Healthy Family shows which chemicals to avoid if you have sensitive skin, where the allergens are in your home, what plastics to avoid in the kitchen, how to reduce your exposure to electromagnetic fields, why most countries don't fluoridate their water supply, what to look for in an asthma friendly vacuum cleaner, what chemicals to avoid if you're pregnant or have breast cancer and more."
"An accomplished naturopath, acupuncturist and building biologist, Ms Bijlsma is the founder of the Australian College of Environmental Studies, a government accredited college. She is a popular and reputable speaker about the built environment and the way in which it influences our health. Her personal journey in discovering the connection between home and health came after linking, through a reproductive immunologist's diagnosis of an over-reactive immune system, her 10 miscarriages and the fact that she and her husband were sleeping in a high level magnetic field meter box and above geopathic stress. After relocating to another bedroom, their sleep improved and she gave birth to twins one year later."
"Healthy Home Healthy Family is a wake-up call to architects, builders, home-buyers and home-owners about hidden household hazards. I urge everyone connected with the design, construction or maintenance of homes to read it and heed the warning! David Hallett (General Manager of Archicentre)"
About the Author
Healthy Home Expert, Nicole Bijlsma is a naturopath, acupuncturist, building biologist, bestselling author and CEO of the Australian College of Environmental Studies (RTO 21740) which she established in 1999 to educate people about the health hazards in the built environment. Nicole has published in peer reviewed journals, has written extensively for Body+Soul newspaper, is regularly consulted by the media to discuss electromagnetic fields and toxic chemicals, and lectures in Australia and internationally at medical conferences about environmental health issues. Nicole and her husband Mark manufacture the Abode cleaning product range (health food store brand) and It's Your Body personal care products which were developed for people with skin and chemical sensitivities. She is currently undertaking her PhD in environmental chemical assessment.