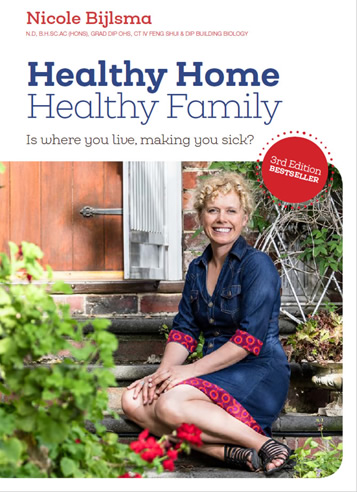 07 Jul

Healthy Home Book

Release date: January 2018
Download Table of Contents
ORDER NOW
Is your house making you sick?

In the past thirty years, new cancer diagnoses almost tripled, hospital admissions for life-threatening allergic reactions have increased four-fold, breast cancer has doubled, male sperm count has halved, the age of puberty is declining, and learning and behavioural disorders in children have skyrocketed. Could these conditions be linked to our homes? YES!

This bestselling book is now in its 3rd edition has sold 10,000 copies in Australia alone. It is a compilation of fifteen years of research. Within its pages you will discover how your home can affect your family's health and, most importantly, what you can do about it.
Testimonials
This is a hard-hitting book on the environmental ills of modern dwellings. With great gumption, Nicole Bijlsma shows why you need to, with great imperative, take your family's health into your own hands, and show you how this can be done. So sit down, take a deep breath and read this invaluable compendium. It will change your attitude about where you sit and what you breathe.
Dr Tim Law (PhD and Architectural Scientist)
Nicole is a passionate woman on a crucial mission to enlighten a sleeping population to the devastating consequences of our modern life. Be guided by Nicole's vast experience, expert advice and clear instructions for making the essential changes to reduce exposure to the chemical soup of chemicals, microbes and electromagnetic frequencies. This book is mandatory reading for my patients.
Dr Penny Caldicott (Medical practitioner, President of Australasian Integrative Medicine Association).
Whether we buy or rent, our home is the most important financial and health investment we will ever make. Our living spaces play a vital role in ensuring our health and wellbeing, yet information about this role is complex, not widely available, or taught to health practitioners. This highly informative text is truly an essential guide for every home. Based on years of diligent research, this book explains how our homes influence our health and provides simple practical advice on how to create a healthy home and healthy family.
Professor Marc Cohen  (School of Health and Biomedical Sciences, RMIT University).
Nicole is the most passionate, well informed and morally responsible professional I have had the privilege to meet in my 22 years in the complementary health industry. Her book reflects her knowledge, passion for the truth, and for the wellbeing of all people on so many different levels.
Dr Anne Small (Integrative medical practitioner).
As a doctor specialising in nutritional and environmental medicine, there is no point treating a patient with supplements or medication if they are breathing in a toxic soup of chemicals, toxins and bathing in electromagnetic fields. This book is for everyone who cares about their health, and a must read, not only for doctors in the field, but for every health professional.
Dr Janet Kim (Integrative medical practitioner)
Nicole's book is a must read for parents wanting to provide a safe and optimal home environment for their family. Well researched, easy to digest and full of wonderful, practical tips.
Gorgi Coghlan (Channel 10, The Circle)
Healthy Home Healthy Family is a wake-up call to architects, builders, home-buyers and home-owners about hidden household hazards. I urge everyone connected with the design, construction or maintenance of homes to read it and heed the warning!
David Hallett (General Manager of Archicentre)
This book contains essential information for any health care practitioner wanting to help their clients, particularly when dealing with sensitivity related illnesses or any chronic condition. Nicole has produced an incredible piece of work that is fully researched and packed with fantastically practical tips. All families, schools and builders also need to grab a copy!
Dr Christabelle Yeoh (Medical Practitioner, President of the Australasian College of Nutritional and Environmental Medicine)
In a rapidly changing world and an internet overflowing with opinions, how do we disseminate what is accurate and true? When it comes to topics such as electromagnetic fields where do we even start? We start here…Nicole has done all of the hard work. In this book, she provides tangible and specific guidelines backed up by scientific research. Her academic rigour, attention to detail, passion and commitment on this topic along with her ability to weave together the threads of how environmental exposures affect our bodies, make this book an absolute bible on environmental toxicants. Knowledge is power. Healthy Home Healthy Family is a must for every household.
Lauren Burns (Naturopath, PhD candidate, Olympic gold medallist, Sydney 2000)

Healthy Home Healthy Family is an incredibly informative and well researched book and an absolute must for those looking to minimise environmental toxins and create a safe haven for their families. I highly recommend this book as a valuable resource full of essential tips to aid in creating a healthy home.
Narelle McDonald (President of the Australasian Society of Building Biologists, Builder, Building Biologist and Feng Shui Consultant)
The impact of the environment on our genetics and our biochemistry has never been more important, as evident by the saying 'Genetics loads the gun, and the environment pulls the trigger'. Nicole is a passionate advocate for environmental medicine, and her willingness to share this amazing information makes Healthy Home Healthy Family an invaluable resource, and a must read for anyone wanting to protect themselves and their families from environmental toxins. 
Carolyn Ledowsky (Founder MTHFR Support Australia).