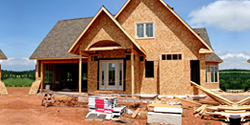 07 Jul

Building Materials
DID YOU KNOW

Infant carriers, car seats, pillows, strollers and some portable cribs were found to have high levels of toxic flame retardants (Friends of the Earth, 2008).
Painting, glues, sealants, particle board and other solvents are the major cause of poor indoor air quality in a newly built or renovated building. Many contain ingredients that cause fatigue and headaches to more serious conditions such as Multiple Chemical Sensitivity and cancer. Just paint a room for the first time and you'll know what I mean! These Volatile Organic Compounds (VOCs) as they are otherwise referred to, can be significantly reduced by choosing alternative paints (see below) and by enhancing passive ventilation. In light of the fact that new homes must comply with strict energy efficient criteria however, passive ventilation may not always be easily achieved. It therefore becomes imperative that you choose products that won't adversely affect the health of your family.
Building materials that you should avoid are:
Paints and sealants that have high VOCs (volatile organic compounds)
PVC plastic
Formaldehyde in particle board and foam furnishings
brominated flame retardants
stain repellant and water resistant applications
Testing
Testing for paints, solvents and formaldehyde in furnishings is achieved with sophisticated equipment. The cost will vary depending on which chemicals you wish to sample. For more detail, click here.
Solutions
Use paints, glues and sealants with low or no Volatile Organic Compounds. See products below.
When renovating, always open windows and doors to encourage as much natural ventilation as possible.
If you are unable to enhance natural ventilation (such as an office with no open windows), you may consider a Bake Out. This is used to speed up the way in which VOCs off gas. Once you've painted or finished your renovations, seal the area and use industrial heaters to heat the room up to 35 degrees for 2 days. Then open windows and doors to enable the VOCs to off gas.
Products
Alternative paint brands worth investigating: